Trying to pass on your love of music to your children used to result in groans, sighs, and frustration for all involved. However, today's technology lets you introduce your kids to music in a way that is fun and rewarding.
​
The following are only a few of the many apps that make learning about music easy for all ages:


1. Magic Piano

​Kids can play along on their very own Magic Piano with this player-piano-type app. Moving dots on the screen show children which notes to play, guiding them through a host of favorite children's songs. A wide range of classical and pop songs are available for playing, along with a karaoke feature that allows kids to sing, record, and share their efforts.

2. GarageBand

| | |
| --- | --- |
| | One of the original music apps, GarageBand still offers some of the best features around for learning music. Kids can choose from multiple instruments, including keyboard, drums, cello, and more, using the touchscreen interface. In addition, children can mix and match beats, record a soundtrack and add sound effects easily and quickly. GarageBand also lets kids collaborate with others, creating multi-layered music. Further, the app also includes lessons to help children learn how to play the instruments right on their phone or tablet. |

3. Duckie Deck Homemade Orchestra

​With a nod toward the days when kids made music with a collection of pots, pans, and anything else they could find, the Duckie Deck Homemade Orchestra presents colorful images of household items that kids can use to make music. Each graphic makes its own, unique sound that the child can play in any conceivable arrangement.

4. Keezy

Keezy's powerful features allow children to record voice and sound samples or use pre-recorded sounds to create musical mixes. With Keezy's colorful and easy-to-use interface, it is hard not to get addicted to it. You'll find yourself using it even when the kids aren't around.

5. Bloom

| | |
| --- | --- |
| Colorful, soothing shapes and scenes float across the screen with a simple touch of a finger, mesmerizing both young and old. A collection of 12 "Moods" are pre-loaded in the app, giving children plenty of musical sounds to enjoy. With each touch, both the sounds and the screen change, building musical connections between sound and visualization. Bloom is geared for children ages 4 and up. | |

6. Disco Fingers

​Cheerful dancing fingers guide children through music-making with simple screen taps. The position of the fingertips on the screen alters the sound, thus allowing children to learn the relationship between music and movement. Easy to use, this app encourages kids to create melodies and songs with their "Disco Fingers."

7. My Singing Monsters

​Bright and colorful, this fun app gives kids the chance to create a choir of unique singing monsters. Each monster continues to sing in a loop fashion, allowing kids to see how adding new monsters or taking them away changes the sound of the melody. This app is perfect for children ages 4 and up.

8. Singing Fingers

| | |
| --- | --- |
| | ​Combining the fun of finger-painting with musical sounds, Singing Fingers is both simple and addicting. Children make a sound while touching the screen and a colorful paint appears on the screen. Change sounds and the color changes as well. Touch the paint to replay the sound, creating your own melodic symphony. |

9. Yousician Guitar

​Geared for an older child who may be interested in learning the guitar, Yousician Guitar is a series of graduated lessons that teach skills and songs. Video tutorials instruct the user in the basics of guitar playing. When ready, the app listens to your efforts and evaluates your skill and technique. Organized into missions, the user works through consecutive assignments and completes challenges as they build their skills. Premium subscriptions are available for more intense lessons.

10. Simply Piano

Similar to Yousician Guitar, Simply Piano instructs the user in the fundamentals of playing the piano. Short tutorial videos combined with an interactive evaluation process benefit players at every level—from the beginner to the experienced player. Players place their device on the piano, where the app records and evaluates their performance, giving instruction and feedback as needed. As the player's skill advances, they can take on challenges and choose from a list of well-known songs to play.

Making music can happen anywhere, and with these simple apps you can help your child develop a love and appreciation for music in a fun, age-appropriate way. Who knows? You may renew (or discover) your own hidden musical talent as well!
Powered by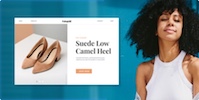 Create your own unique website with customizable templates.