​The guitar is among the most widely-played

instruments

in the Western world. Since it first gained popularity with the advent of rock and roll in the middle of the 20th century, countless aspiring musicians have sought out the guitar as a means of artistic expression.

Those who are ready to make a serious commitment to this six-string instrument may consider buying a guitar of their own for the first time. Listed below are four common mistakes everyone should avoid when buying their first guitar.

​

Buying a guitar that's too cheap

If you're serious about learning to play, you should set aside at least $200 to buy your first guitar. No matter which style of guitar you're looking to pick up, an investment of at least $200 will generally provide you with an instrument that has a respectable sound and a playability conducive to new learners. Making room in your budget for this minimum expenditure is much more likely to help you obtain a guitar that is fun to practice on, has a good tone, and doesn't go out of tune too quickly.

On the other hand, as a new player, you should be wary of buying an expensive guitar until you're truly committed to learning how to play. At a certain point, a guitar's quality will not make you sound any better, unless you have achieved a certain level of skill. Spending an exorbitant amount of money on a first guitar is therefore usually unnecessary.



Buying a guitar with the wrong sound

Though some music professionals argue that new players should hone their early skills on an acoustic guitar, others suggest that this can be demotivating for some people. The first guitar that you buy should be one that's suited to playing the style of music you're most interested in. Those who want to play old school country or folk music may find that the acoustic guitar works out best. If you're particularly interested in learning to play rock, pop, or heavy metal, an electric guitar might be the better choice. And if you're more committed to learning jazz or the blues, you may get more enjoyment out of a hollow body or semi-hollow body guitar.

No matter what version of the instrument you settle on as a new guitarist, you should make the decision based on your own interests. If the sound coming from the instrument doesn't move you, you likely be less motivated to continue practicing.
​


Buying your first guitar secondhand

As stated before, making a minimum investment to obtain a quality guitar makes a big difference when it comes to playability, and therefore can have a significant impact on whether you'll continue to practice the instrument over the long term. One of the best ways to get more value for your money is to purchase a guitar secondhand, but some professionals advise inexperienced players to avoid this. Used guitars can be damaged in subtle ways that are difficult to detect and make the instrument unpleasant for novice musicians to play. Worn-down frets, buzzing strings, high action, cracks, and bent necks can all go unnoticed by the untrained eye, and all have the potential to make the instrument challenging to practice on and therefore less enjoyable.

If you feel compelled to purchase your first guitar secondhand, make sure to bring along an experienced guitarist who can assess the quality of the instrument before you purchase it.



---

Buying a guitar without the necessary equipment

​There is a list of supplies that you'll need to buy along with the instrument. First, plan to buy a physical tuner, rather than relying on a smartphone app to help you tune your guitar. While apps are helpful in a pinch, physical tuners are more accurate and will make a guitar sound much better. Buying several guitar picks can also be useful for new musicians during practice.

Another non-negotiable item that all new players need to buy is a case for their instrument. A good case offers protection that will help keep your guitar in good condition when you're transporting it from location to location. A case also provides a safe place to store the guitar at home when you're not using it.

When you're shopping for your first guitar, ask for professional advice from the salespersons at the store. Many associates at guitar and music shops are trained to help customers find the instrument that best suits their level of ability, and they're usually happy to give advice on the right equipment to purchase along with a new guitar.

Powered by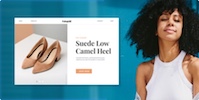 Create your own unique website with customizable templates.