Studies have shown that music can have a positive impact on a child's development as her or she grows, improving skills such as spatial reasoning, literacy, social abilities, and empathy. In addition to encouraging personal development, music also has the potential to create stronger bonds between parent and child. To gain these benefits through musical exploration, consider participating in the following five activities with your child.



Take music lessons together


Learning to play an instrument with your child can be an engaging way to establish a common interest. Your son or daughter's age and physical dexterity will dictate which instruments he or she is capable of playing in the early years of life. However, once your child reaches the age of 10 or so, he or she will generally be able to take up any instrument.

Because children and adults have different needs when learning to play music, you may not be able to attend the same lessons as your child. However, practicing together at home after separate lessons can create a sense of mutual support, as you'll both understand the difficulties of working to develop a musical skill. Additionally, playing music together may improve your relationship with your child, as research shows that musicians who play in tandem experience positive feelings toward one another during the performance.



---

Attend a concert


​Bringing your son or daughter to a concert can be an excellent way to foster his or her passion for music while also spending quality time together. There are concerts for literally every genre of music, from classical to R&B and everything in between. It's your decision when your child is old enough to attend a particular show, but some venues may not allow young kids. Because attending concerts requires a certain level of maturity, taking your child to a performance shows that you trust him or her, and it often creates memories that will last a lifetime.

If you decide to go to a concert as a family, keep in mind that you'll need to prepare in order to make the experience as safe and enjoyable as possible. Before you go, establish a meeting place in case you and your child are separated in the crowd, go over any rules of behavior, and purchase earplugs to protect your child's hearing from the loud volume of concert music.
​


See a musical

If a concert doesn't interest your child, consider taking him or her to the theater to see a musical production instead. Like concerts, the theater is an adult experience that children can feel excited to be a part of. It's also an excellent way for you and your child to spend quality time together. As an added benefit, exposure to musicals and live theater in childhood has been shown to improve literary knowledge and increase feelings of empathy and tolerance in children. Classic kid-friendly musicals include Beauty and the Beast, Cats, Annie, The Lion King, and Oliver!, among many others.

It's important to remember that unlike many concerts, a theater production requires a child to be completely quiet and sit still for a prolonged period of time. To avoid disturbances and complications, be sure to talk to your child ahead of time about what is expected of an audience member. Children should also be well rested and fed before attending a performance.



---

Share favorites

Toddlers and young kids may be exclusively interested in rhymes and ditties like "Twinkle, Twinkle Little Star" or songs they hear on TV shows. However, when your child reaches an age when he or she can appreciate music with more nuance, considering sharing your favorite songs with him or her. According to a study published in 2014, listening to music as a family strengthens bonds, can improve the overall wellbeing of family members, and contributes to the development of a collective identity.

Though your child may not take to your preferred artists or genres, showing them music they have never experienced before encourages musical exploration and allows them to begin developing their own

musical tastes

. As your child grows older and develops independent musical interests, spend time together listening to his or her favorites. You may not enjoy this music as much as your child does, but showing an interest in his or her preferences can strengthen your relationship. Additionally, listening to your child's preferred artists can help you keep track of the kinds of messages they're getting from the music they listen to when you're not around.

Incorporate music into daily life

​The best way to experience music with your children is to make it a standard part of everyday life from an early age. Regular exposure to a wide variety of songs can help your child develop connections in the brain that set him or her up for a lifelong appreciation of music and all the benefits it has to offer.

To incorporate music into your family's daily schedule, put it on at home any time the circumstances allow. Play music while you cook dinner, while you're doing chores, and even when it's time for bed. Create a playlist or CD to listen to when you're in the car together. In every instance, be open about your own love of music to inspire your child to find joy in it as well.

Powered by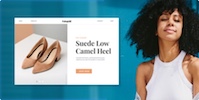 Create your own unique website with customizable templates.