Children who study music from a young age are poised to gain many benefits from the experience, including better language development, improved spatial-temporal skills, and higher test scores. If your child expresses an interest in music, you can help him or her develop a stronger curiosity and love for the subject using these helpful tips:
​


​1. Expose your child to music from a young age.

By making music part of daily life, parents can significantly influence their child's ability to appreciate all that music has to offer. Playing music for children in the car, singing with them, and giving them the opportunity to watch musical television shows are all excellent ways to introduce music in a fun and stimulating way. Parents can also make early music discovery an adventure by working with their children to create musical instruments from ordinary household items like pots, pans, pans, and spoons, or by going to the library to check out CDs with kid-friendly songs.
​


​2. Make instruments readily available at home.

Kids may also become excited about pursuing music if they are free to explore a variety of instruments in their home. Therefore, parents should leave an instrument, like a guitar or drum, on display where their child can easily pick it up. A piano can be especially beneficial for early music exposure at home, as children can generally begin to experiment with the instrument once they are physically big enough to reach the keys and develop the hand dexterity to push them down.
​


​3. Look into private music lessons.

If a child shows a specific interest in music, his or her parents should consider enlisting the help of a professional to foster that passion. While a teacher's qualifications are important, his or her ability to interact positively with a child on a personal level is vital. To find a music teacher who specializes in instructing kids, parents should consider soliciting recommendations, holding interviews, and attending recitals held by prospective teachers to determine whether or not the instructor will be a good fit for their son or daughter.
​


​4. Give your child a special practice space.

​Children who commit to an instrument may be more motivated to practice if they have a designated space in which to do so. Ideally, the practice space should be situated in a quiet, organized area where siblings, television, and other distractions cannot intrude. It is also a good idea to equip the practice space with pencils, music stands, paper, and other tools that young music students might need.
​


5. Incorporate practice into your child's daily routine.

To encourage musical development, parents should make practice part of their child's daily schedule. Parents can make this time more appealing by scheduling pleasurable activities around the practice session. For example, kids could enjoy snack time before practice and play time afterwards.



6. Be supportive under all circumstances.

Parents should always visibly support their child's efforts regardless of his or her level of musical ability. For example, if a child wants to showcase a newly developed talent or practice a song, parents need to devote their attention to the performance and make honest, encouraging remarks. It can also be helpful for parents to regularly ask about how their children's lessons are progressing and check in with them at regular intervals about their interest in music.

Additionally, when a young music student reaches a milestone such as memorizing a new song or performing in a recital, parents should find a way to celebrate their child's accomplishment. Doing so may help children stay motivated to continue their studies when the lessons become challenging.
​


7. Don't try to control your child's musical progress.

​Parents who see true musical potential in their children may be tempted to force them to practice longer hours or study an instrument that doesn't interest them. However, experts suggest that it is better in the long term to let a child's talents develop naturally, and most recommend that parents support their child's decision if he or she wishes to switch instruments or focus on an activity outside of music. Creating an understanding environment where a child feels comfortable pursuing his or her own individual interests is ultimately better for the child's healthy development.

Powered by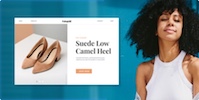 Create your own unique website with customizable templates.