​Educators and researchers have long promoted the benefits to children of learning to play a musical instrument, and many school districts work hard to preserve music programming for students. From better coordination to improved cognitive functioning, many studies have confirmed just how important learning how to play an instrument is. In the following, you will learn about some of the benefits that your child can gain from playing a musical instrument.

There has been a great deal of research on how playing an instrument can have a positive impact on a child. Many of these studies have similar results and conclude the same thing: music increases brain function, reduces dropout rates, and improves sound processing.
​


What Does the Research Say?

One such study was conducted by the Harmony Project in Los Angeles, which assists students from communities with low incomes. According to the organization, its music program is helping to improve college attendance rates. Ninety-three percent of high school seniors who participated in the music program went on to attend college. This is in contrast to an overall dropout rate of 50 percent in their neighborhoods.

Another study conducted by Scientific American's board of editors indicated that playing a musical instrument in early childhood could assist children in learning other subjects, including calculus and literature. This is due to the brain's ability to process sounds more effectively. The researchers discovered a correlation between musical study and increased fine motor skills, non-verbal reasoning, and improved vocabulary.
​

---

Playing an Instrument Offers Physical Benefits

​In addition to offering academic benefits, learning to play an instrument also has many physical benefits. The coordination that is necessary to play instruments such as the drums, piano, and the guitar can have a positive impact on the development of a child's motor skills. String instruments in particular require the left and right hands to perform different tasks at the same time, which is challenging, but can help a child to become more comfortable in multi-tasking. This can translate into better performance in other extracurricular activities, such as sports.

Test scores are also positively impacted by the study of musical instruments. According to the College Board SAT, in 2012, music students who took the SAT scored more than 31 points above average in reading, 31 points above average in writing and 23 points above average in math.
​

How to Get and Keep Children Engaged

​Once your child has begun music classes or private lessons, it's important to learn how to keep them interested. This begins with ensuring that you help your child to select a musical instrument or class in which they are truly interested, along with finding an instructor who connects well with your child. If your children enjoy their teacher as much as the instrument they're playing, they will want to continue.

When children decide to take music lessons, their parents should have a conversation with them about the leaning process and how constructive criticism can help them to play better. Children must be able to adequately process this feedback in order to foster greater self-confidence and improvement in their skills. The ability to accept negative, but constructive feedback will inevitably help your children in many areas of their lives as they grow older, so it's important to develop this quality early on.
​


---

The Importance of Practicing

​You should also discuss the importance of practicing with your children before signing them up for lessons and help them to understand its significance. Many children are fine with sitting with an instructor and playing, but some will not be motivated to continue to practice on their own once their lessons are over. You can help your children to develop the self-discipline necessary to practice at specific times, but be careful that you're not too overbearing. Encourage your children to work hard and to practice daily by having them play their instruments for family members. You can also immerse them in music when they aren't practicing by playing music that prominently features the instrument they are studying or taking them to age-appropriate live music events.

Getting your child excited about playing an instrument is one of the first steps in successfully learning to play. If your child's school offers the opportunity to play an instrument, you can help them to identify which one they enjoy most and which ones will challenge them in a healthy way, as well as how much of an impact practicing the instrument will have on your household. Be sure to research the cost of the instrument, as well as any maintenance expenses, before making a commitment, as they can greatly affect your child's experience. The skills your children learn while studying an instrument will be extremely valuable and, in many cases, can be used for a lifetime. By conducting research and encouraging your child, you both are likely to have a positive musical experience.

Powered by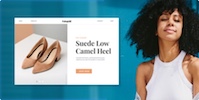 Create your own unique website with customizable templates.