It's a point of concern for every music-loving parent-to-be: the imminent arrival of the kiddie songs and tunes that will soon invade the airwaves of the car and house. No more playlists of hipster songs ready to go at a moment's notice, no more rock songs while driving down the highway, and most importantly, no more late-night jam sessions with soulful tunes. Many parents go through several stages when mourning the loss of their musical independence and the start of a new reality. These stages can look remarkably like the stages of grief:

Denial: My kids aren't going to change my music. I'm not giving up my playlists; they'll just have to learn to like my tunes.
Anger: Why do kid songs have to be so awful? Why can't kids just listen to whatever songs are on and like them?
Bargaining: For every three kid songs we listen to, I get to play two adult songs.
Depression: I'll never be able to un-hear "The Potty Song." By the time I get control of the radio dial again, all of my music will be playing on the oldies' station.
Acceptance: If I'm going to have to change the music I listen to, at least I can find some 'kid-friendly' songs that don't make my ears bleed.

However, the arrival of children doesn't have to mean the death of music appreciation. Finding ways to balance classic tunes with the rhythms and sounds that kids love can be a challenge, but it is worth the trouble. After all, studies show that

introducing your child to music

can have long-term benefits in almost every area of life.

​For parents who have accepted that their musical tastes will have to change, this list of kid-friendly/parent-approved music will help them make the transition.

---

They Might Be Giants – Here Come the 1,2,3s and Here Come the ABCs
​

| | |
| --- | --- |
| ​Featuring songs that both kids and adults can enjoy, these catchy tunes from alt-rock band They Might Be Giants provide a welcome change in the sea of kid's music that fills the airwaves. Written to appeal to younger listeners, the lyrics provide moms and dads with a few laughs as well. Songs such as "No!" will seem particularly appropriate during the toddler years, and "Fibber Island" is bound to become a favorite of both kids and adults. | |

Dan Zanes & Friends – House Party

​Adult-oriented artist Dan Zanes brings his musical style to the children's market with easy singalongs and playful tunes. Picked up by Disney, Zanes manages to find a good balance between kids and adults, filling his album with songs that everyone will appreciate.

Sandra Boynton – Dog Train

​Best-selling author Boynton has written stories for children that have become some of the most beloved stories of all time. She's since turned to the music industry, writing songs that have become classics in their own right. Careful listeners will recognize the vocalists; her albums include performers such as Blues Traveler, Spin Doctors, Alison Krauss, and "Weird Al" Yankovic.

Barenaked Ladies – Snacktime!

| | |
| --- | --- |
| | If the name isn't enough to get a giggle out of your kids, the songs are sure to make them (and you) smile. Delightful songs include "Allergies," a fun, lighthearted look at things you can't have, and "Crazy ABCs," which features enough 'over their head' lyrics to keep parents entertained while their kids jam out. Pun-filled songs with clever wordplay and catchy tunes round out the album, making it an instant favorite. |

Starbucks – Music for Little Hipsters

​The coffee giant has long been a source of hip music. For new parents reluctant to give up the coffee-shop experience now that baby is in tow, Music for Little Hipsters provides a collection of cool tunes that both kids and parents can enjoy. Songs by the Beach Boys, Devo, and I'm from Barcelona are recognizable and enjoyable for all, meaning parents keep their dignity and sanity, while their children learn to appreciate quality music.


​Brady Rymer – Every Day Is a Birthday

​Fans of musical groups like Counting Crows, the Wallflowers, and the Jayhawks will appreciate the lyrics and sounds found on Rymer's album. With catchy tunes and simple lyrics, parents will hit 'repeat' when this album is playing.

Powered by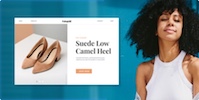 Create your own unique website with customizable templates.