Teenagers have always loved their music. Although the noise level in your home can be painful, sometimes the extra noise is worth the annoyance, because being involved in music has many benefits for young people. So, don't worry, the years of late-night jam sessions, squealing guitars, and booming bass might just pay off in the end.
​
Looking for ways to encourage your teen's love of music? Try these helpful tips:

1. Encourage them play an instrument. ​

Teenagers looking for a means of expression during the tumultuous middle and high school years may not be as drawn to the recorder as they once were. Even if your child has never played an instrument before, talk to your teen about what musical styles he or she might be interested in, and which instrument he or she would enjoy playing. Find out if your child's school offers band or orchestra classes and sign your teen up!

Does your child want to learn to play the electric guitar or another instrument not offered at school? Seek out a music store or music school that offers lessons, or

investigate an online option

. To get an inexpensive instrument, you can try renting one from a music store or search Craigslist to buy a used one.

2. Be curious about what your teen is doing.

​Particularly during the teen years, children need (and want) input and support from their parents—even if they don't ask for it. Be involved in their music and talk to them about what they're doing. Ask what they're working on, and find out about the pieces they're playing in their music lessons. Find out what their favorite parts of the music they listen to are, and spend time enjoying (or at least listening) to their favorite songs together.


3. Show your child that you are his or her biggest fan.

Attend every performance—even the Friday night ones in the garage. Invite some friends (with your teen's permission), set up lawn chairs, and celebrate your teen's musical attempts, no matter how awkward or inexperienced they may be. Performing—even just for friends and family—can be a nerve-wracking experience that requires confidence and courage. Applaud your child's efforts and impress upon him or her how proud you are. Your support will be the foundation for your teen's sense of accomplishment. It may even spur your child on to pursue his or her musical dreams.

Not every musically inclined teen scores a record deal, but all teens deserve to have their parents' support and encouragement. Put an instrument into your teen's hands and encourage him or her as they strive to master it. This will give your child a way to express him or herself, provide inspiration for creativity, and offer you a glimpse into his or her inner world.

Powered by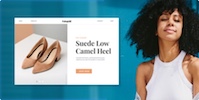 Create your own unique website with customizable templates.