Whether your child plays an instrument, is a vocalist, or both, there's a chance he or she views it as more than just a hobby. At some point, your child may show genuine interest in pursuing music as a career.

Music is a diverse profession with a wide variety of roles, and it can be hard to figure out just where your child fits in. Nevertheless, for parents who want to encourage their children to pursue a career in music, here are a few things to keep in mind.
​


Develop Your Child's Talent


While your child may be your pride and joy, one of the best things you can do as a parent is be realistic about your child's talent. Having a successful career in music is definitely possible. However, it requires talent, dedication, and the ability to take criticism.

This thick skin will be nearly as important as raw talent because realistically, your child will probably be told "no" more times than "yes" when trying to break into the business. Talent is definitively necessary, but ascending to superstardom in the entertainment world is often the result of luck or simply being connected to the right industry insiders.

To develop your child's talent, it may be a good idea to find

opportunities for them to perform

for strangers. Friends and family members tend give biased but favorable reviews.

Doing this will expose you and your child to outside opinions of their musical talent. These instances can be used as valuable learning experiences to help your child improve. The world has many talented individuals. The question is, what will distinguish your child from them?

​

---

Emphasize Education

For a person to be included among the best in their field, a quality education is essential. This is why parents should make an effort to prioritize learning about music and the art of performing.

Working with a dedicated instructor who has successfully demonstrated that they can work with aspiring artists is a good idea. These sessions may be rigorous, but assure your child that they are beneficial and will help further their long-term musical career goals.

Attending classes,

music camps

, and workshops can also help your child make important connections with those who share similar aspirations. These connections can potentially be valuable for a lifetime.

Children may not need any prodding when it comes to music. In fact, they may be overly focused on developing their musical talent at the exclusion of their general education. Parents should emphasize that academics come first because no matter what happens with the music, their education will always be valuable.

Children should be encouraged to explore and pursue their passions, but not at the expense of formal education. Focus on explaining the anticipated steps necessary to reach their goals, and help them understand that achieving them will take a lot of hard work.

There is also a fine line between developing a child's talent and forcing him or her to participate in something he or she lacks passion for. It's important to periodically check in with children to see how they are feeling and determine whether they are still just as passionate as when they started.

​

---

Explore All the Possibilities

Your child may want to pursue a career as a pop star or want to play guitar while on worldwide tour, and he or she may even be rigidly dedicated to these goals. Although it is great to pursue a specific, tangible goal,, it's a good idea to remind children of the many career opportunities available in music.

If your child has a deep love for music, go over the wide range of ways to put that passion to use. Teaching music is a very rewarding profession, for example. If your child develops sufficient proficiency in an instrument to teach someone else, becoming a music educator may be an appropriate use of this talent.

If your son or daughter has a discerning ear or stellar writing skills, encourage him or her to compose music or lyrics. There are literally thousands of possibilities within the music industry, and there is no reason to limit your child to just one or two.

Aspiring musicians and vocalists often receive advice from friends and family (both solicited and unsolicited). It can sometimes be difficult to separate fact from opinion. For example, people close to your child may encourage pursuing a different career. Though individuals may mean well, this may be received as telling a child that he or she will not succeed.

Having a backup plan is by no means a bad idea. However, placing too much emphasis on having something to "fall back on" may lead your child to pursue professions that leave them unfulfilled in the end. The most important takeaway in preparing your child for a career in music is that balance must be present.

Powered by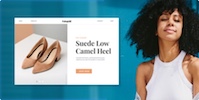 Create your own unique website with customizable templates.