​From YouTube to Skype, online music lessons have become popular in recent years. Music lessons conducted via the Internet can reach people in any part of the world, and they are ideal for those with minimal time. However, online music instruction isn't for everyone, and making the decision to go this route shouldn't be taken lightly. Here, we explore some of the pros and cons of online music lessons and how to decide if this type of instruction is right for you.
​​

Benefits


One of the main benefits of taking music lessons online is that you can reach music teachers in any part of the world. If you want to play a unique instrument, online instruction may be your only option, as local teachers may not offer lessons for the type of instrument you play. Online lessons open you up to a wide range of possibilities that you may have not have otherwise been able to access.

If you are taking music lessons in person and are having a hard time grasping certain concepts, such as

reading music

, online classes can help to reinforce complex theories. It should be noted that an instructor may offer a different teaching style in person than would an online instructor, and this could cause confusion if you're not careful. For this reason, it's recommended that you research your online instructor prior to making a commitment.

Affordability is probably one of the biggest benefits of taking music lessons online. Traditional music lessons usually cost more due to the fact that teachers often have to pay for the space used for instruction, and there may be other fees they are required to pay in order to offer lessons. In addition, music teachers usually charge less for lessons provided online as opposed to in person.

​

---

Convenience


Convenience is probably the main reason why people seek online music lessons in the first place. Aside from not having to show up for lessons in person, online instruction can usually be accessed at any time of the day or night. Thus, it is perfect for working adults and even children with lots of extracurricular activities. Online music lessons allow you to access quality instruction that fits your schedule perfectly.

Taking lessons online eliminates the logistical issues that come with having to commute to see your music instructor. If you live in an area that is prone to inclement weather, taking lessons online can be even more beneficial.

In addition to the other convenient aspects of online music instruction, you can also record your music lessons to review later. There are even software programs that allow you to compare your notes with those of your teacher and to record your on-screen activity so that you can observe areas in need of improvement.



Drawbacks

​Even with all the benefits of taking music courses online, there are a few disadvantages that you should know about. The most obvious one is the lack of a personal touch. People who are new to playing an instrument may benefit from the physical presence of an instructor who can give them instant feedback on the correct way to hold their instruments, proper posture, and a variety of other factors that can affect learning.

As with most forms of online instruction, learning music online requires a high level of discipline and self-motivation. This is especially true of self-paced courses that allow students to access lessons at their leisure. If you are tempted to skip a lesson, there is often no real accountability, and it will be more difficult to catch up later.

Online lessons basically offer a one-size-fits-all approach to music instruction, so if you require individualized attention, you're unlikely to receive it by taking online music classes. Unless you are participating in a video chat-style instructional session, you won't receive instant feedback, which is essential to becoming skilled at playing your instrument of choice. You also will lose the ability to obtain direct answers to your questions and will often have to email your questions and concerns, then wait for a reply.



---

Plentiful Choices

The choices are plentiful when it comes to music instruction, and the online options are even more vast. Narrowing down these choices can be overwhelming, so it's best to start with what matters most to you. If you are completely new to learning a specific instrument, then it would be better to go with personalized sessions rather than looking for more general video tutorials. One-on-one instructional sessions can be conducted on a variety of Internet platforms, including Skype, Google Hangouts and even Apple's FaceTime.

The Internet is full of possibilities that can make a variety of activities easier, and learning music online is sure to become more advanced as time goes on. Taking music lessons online opens you up to a new world of possibilities that weren't available a few decades ago, so it's important to research your options. If you find that you are pressed for time or need a more flexible lesson schedule, then online music lessons may be the ideal solution.

Powered by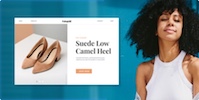 Create your own unique website with customizable templates.